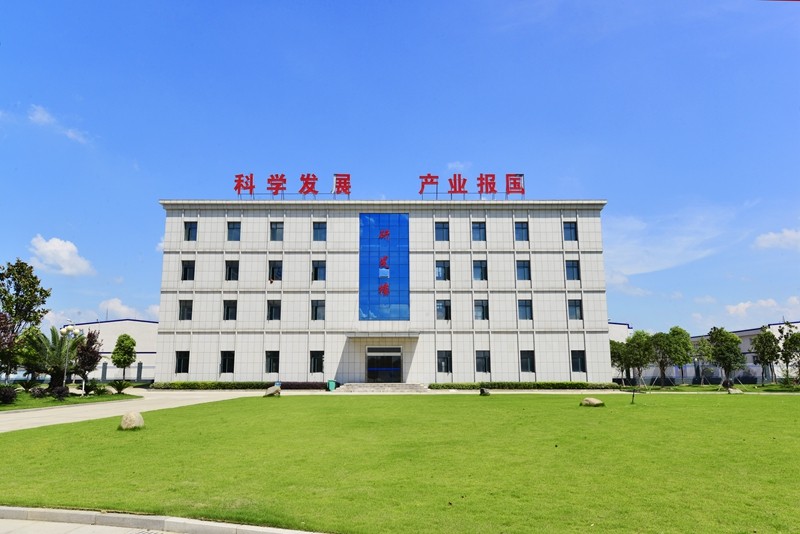 Hubei New Blue Sky New Materials Co., Ltd. takes the form of a centralized research and development organization, which is a technology center, as an important component of the innovation organizational system. The technology center is led by Xiao Junping, Vice Chairman of Hubei New Blue Sky New Materials Co., Ltd., who leads the research and development work of the technology center. The technology center was recognized as the "Hubei Provincial Enterprise Technology Center" in 2012, and the organic silicon technology research and development center jointly built with Hubei University in 2013 was recognized as the "Hubei Provincial School Enterprise Joint Construction Organic Silicon Technology Research and Development Center". The "Silane Derivative Development and Application Laboratory" jointly built with Hubei University was established in 2015 at Hubei University, and was approved to establish a postdoctoral research workstation in 2015, In 2016, it was recognized as the "Hubei Province Silane Derivatives Engineering Technology Research Center".
The Technology Center currently has a dynamic and creative technology research and development team with 82 professional technical personnel, including 4 engineering technology leaders with high technical level and rich engineering practice experience, 5 senior engineers, 26 engineers, 3 professors, and 5 doctoral students. Among them, Wang Cheng, an engineer, graduated from Hubei University with a major in Applied Chemistry and has been deeply involved in the organic silicon industry for 14 years. He has rich experience in the development of silane polymer products and currently serves as the manager of the technical center, responsible for the daily management of the technical center. The R&D team of the Technology Center has strong technological research and innovation capabilities. As of the end of August 2023, it has obtained 40 patent authorizations, including 31 invention patent authorizations and 9 utility model patent authorizations. Many of its achievements are at the international advanced level. In recent years, the technology center has received 7 scientific and technological achievements awards, completed 2 scientific and technological achievements evaluations, and the evaluation conclusions are at the international advanced level. Among them, the "direct synthesis of trimethoxysilane" and "continuous process of methyltriacetoxysilane" have been awarded as excellent scientific and technological achievements in China's fluorosilicon industry. The silicone series products developed by the technology center have been recognized as Hubei famous brand products and have won the Hubei Provincial Science and Technology Progress Award and the Xiantao City Science and Technology Achievement Promotion Award. At the same time, the Technology Center published 11 papers in magazines such as "Organic Silicon Materials", "Proceedings of the 8th Jianghan Cup Silane and Siloxane Oligomer Technology Information Exchange Conference", and "2017 8th International Sealing Materials Technology Seminar". In addition, in order to achieve standardization and standardization of product quality control, the Technical Center has completed 95 enterprise standards, led the drafting of 2 national standards, 1 industry standard, and 9 group standards.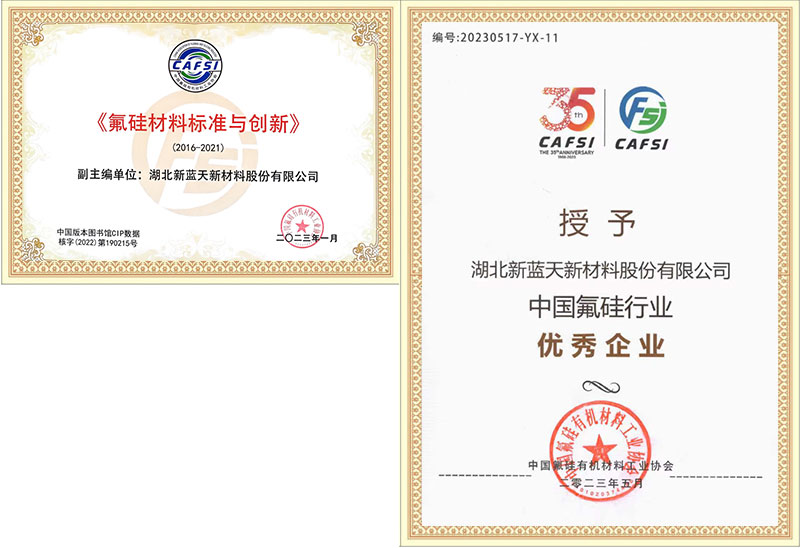 The Hubei New Blue Sky Technology Center has a wide range of equipment types and reasonable configurations, meeting our company's product research and development needs. In addition to conventional gas chromatographs (analyzing components and content, the same below), infrared spectrophotometers (functional groups), viscometers (viscosity), moisture meters (moisture), digital pH meters (pH), Hash turbidity meters (turbidity), microcoulometric comprehensive analyzers (total chlorine), automatic potentiometric titrators (free chlorine), digital Abbe refractometers (refractive index), and automatic sulfur meters (sulfur content) In addition to instruments such as UV visible spectrophotometers (molecular structure) and conductivity meters (conductivity) that analyze the composition and properties of substances, there are also production equipment closely related to this field, including experimental planetary mixers, tensile testing machines, kneading machines, three-dimensional high-speed mixers, cement mortar mixers and coated sand prototypes used for preparing coated sand, as well as other commonly used laboratory heating and weighing equipment.
Our technical center equipment has strong practicality and can perform rapid and accurate qualitative and quantitative analysis of our products. The analysis results have high accuracy and have been unanimously recognized by customers. At the same time, the equipment in the technical center can also meet conventional use, such as three-dimensional high-speed mixers for mixing purposes, ice machines for cooling, magnetic heating stirrers for reaction heating, muffle furnaces for drying, airflow dryers and electric constant temperature drying boxes, peristaltic pumps for feeding, etc. A large number of advanced equipment has laid a solid foundation for the rapid development of our company's technology. Our technical center also uses software from relevant equipment to quickly analyze the composition and properties of unknown samples. Gas chromatography is a chromatographic analysis method using gas as the mobile phase, mainly used for separating and analyzing volatile substances. Gas chromatography has become one of the most important separation and analysis methods, widely used in fields such as medicine and health, petrochemical industry, environmental monitoring, biochemistry, etc. Our technical center will use advanced software on gas chromatograph equipment in the research and development process to improve research and development efficiency. Usually, the X-axis of a gas chromatography chart shows the time it takes for the analyte to pass through the column and reach the detector, and the displayed peaks correspond to the time each component reaches the detector. The Y-axis or peak area reflects the presence of a specific analyte. In addition, unknown compounds can also be identified based on the retention time of known standards under the same parameters. Therefore, the software provided on the gas chromatograph can help us quickly and accurately identify the type and content of unknown peaks. Infrared spectrophotometer, as a widely used equipment in fields such as petroleum, chemical, pharmaceutical, environmental protection, teaching, material science, public security, national defense, etc., has also played an irreplaceable role in our company's product development process. This device is mainly used for qualitative analysis of the characteristic functional groups of products. The infrared spectra of unknown samples obtained through infrared spectrophotometer are compared with the infrared spectra in the standard product library provided by the software to determine the type of unknown samples, greatly improving the research and development efficiency of the product.
The company's technology center has complete research and development conditions, as well as a reasonable knowledge structure and high-quality technical force. The research and development projects of the Technology Center have a high technical level, with a certain degree of foresight and comprehensiveness. They have formed a relatively independent and complete technology research and development center, which is conducive to fully utilizing the human, material, and financial resources of technology development, and is conducive to the integration of basic research and application research, product design and process design, and software and hard technology, This greatly improves the ability and level of enterprise product development.